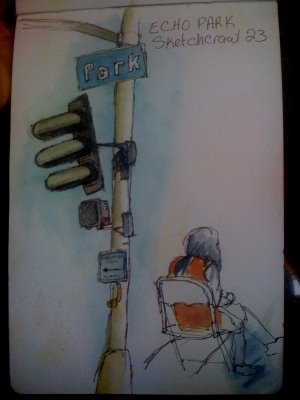 I participated in my first sketchcrawl yesterday! It was a lot of fun, but unfortunately I forgot to bring a camera. There happened to be a festival going on in the park this weekend, so there were MANY things to sketch. I didn't draw as many people as I wanted to, but I'd been itching to practice drawing buildings and urban scenes.
There was a group of street cleaners that I wish I had gotten a picture of to sketch later. They all had identical shirts, but different tools and different body types/postures. They would have been fun to capture in the sketchbook.
Sorry for the bad
quality of the images. I don't have a scanner hooked up at the moment due to chaos in our house. I had to photograph them as best as I could with the iphone.